How to create an email account?
Learn how to create an email account with one.com
So, you're looking to set up an email account but aren't quite sure how to or why you need one? Well, you've landed in the right place. On this page, you will find a beginner-friendly, step-by-step guide on how to create an email, and information on why you need one.
How do I create an email account?
We recommend picking a hosting company, such as one.com, and hosting email on your own domain. This is far more ideal than using a free email account, such as Gmail. By having email on your own domain, you're boosting your credibility.
Plus, if you use a free domain, you are directly tying your image to a domain you have no control over, this means copious amounts of ads, security threats and a higher chance of ending up in the junk folder.
Let's get started.
If you haven't already, you'll need to pick a hosting plan and register your domain.
Log in to your one.com control panel.
Click on 'Email'.
At the bottom of the page, click 'New account'.
Next, choose what you want your email to be called.
Select 'Create account'.
Remember, when choosing your email you can't change what comes after the @ symbol, as this is your domain name. For example, if you've registered your domain and your business is called 'Emma flowers', you could create an email called help@emmasflowers.co.uk.
That's it! You're all set. Begin exchanging emails with your new, professional email account.
Why should you create an email account with one.com?
The amount of global email users is increasing year over year. By 2023, the figure will have increased by over 25% since 2019.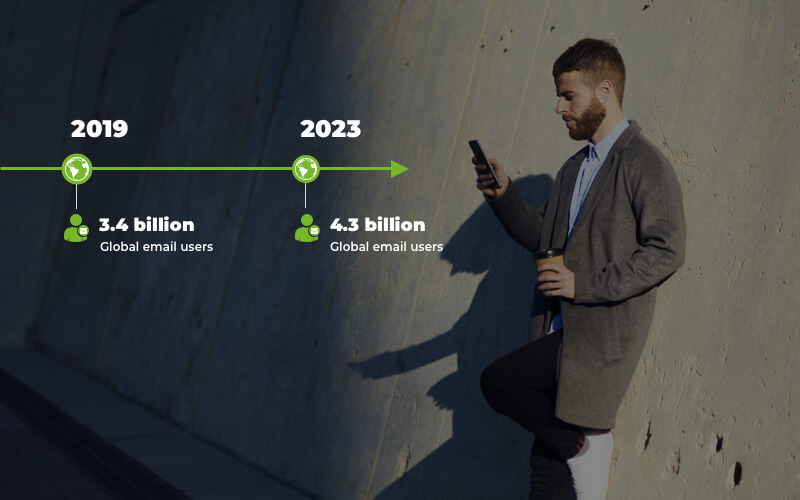 Not only is it quick and easy, but email is a widely used form of communication. Whether you're a small business, large corporation or simply need it for personal use. It's the easiest way for viewers and potential customers to get into contact with you. Which means it's the easiest way to gain brand awareness and in turn, increase your chances of a sale.
Creating a professional email, is just as easy as creating a free one, except a professional email, shows legitimacy.
What are the other benefits of having your email on your own domain?
Manage multiple accounts
Even our most basic plans include free email hosting. Plus, you can easily manage multiple email accounts for all staff within your organisation.
No low file storage
By having email on your own domain, you will get 50x more storage than the industry average. At one.com, we don't cap the size of your mailbox! No more pesky full mailbox messages.
Security
At one.com, not only do we offer an SSL certificate with all of our packages, but we also have built-in spam and virus protection, as well as black and white lists!

What our customers say about us
"The usage of one .com e-mail is so easy, clear compare to other companies e-mail systems. Highly recommend this company!" – Jussi
Follow us on social media