Easily transfer your domain to one.com
Learn how to transfer your domain name, website and email to a different host
Researching a domain transfer? You're probably unhappy where you are. So let's see if we can help you understand the process. We simplify the domain transfer process and offer all-in-one hosting options at competitive prices. If you're a customer already, you could even unlock a free website and email hosting for the newly transferred domain name.

Start now by searching for your domain and placing a "Transfer" order. If you have questions at any point, our support team is on-hand 24/7 to assist.
What exactly is a domain name transfer?
Each website has a domain name; it's the address you type into the browser to access it. Registrars – specialised web service providers – register, configure, and renew domain names for you every year unless you cancel your subscription.
However, as a domain owner, you do have the option to transfer your domain name to another provider. The process of changing registrars for a given domain name is a domain transfer.
Transferring a website
Let's start with the first steps you need to take to transfer a domain name. When you transfer domain name providers, you need to decide what to do with your website and email. The domain transfer does not carry over your files; you'd need to arrange your email and website transfer separately or start to build a new website from scratch with the new provider.
How much does a domain transfer cost?
At one.com, we offer a fair price for the domain transfer operation, and our support is available to you during every step. Additionally, you'll need to pay an annual domain registration fee alongside any plan that you take out for your website. For example, suppose you register a .net domain name in January and decide to transfer it in June. In that case, you'll need to pay the 12-month domain registration fee as part of the transfer and extend the registration period until the following January.
Transferring a domain in four simple steps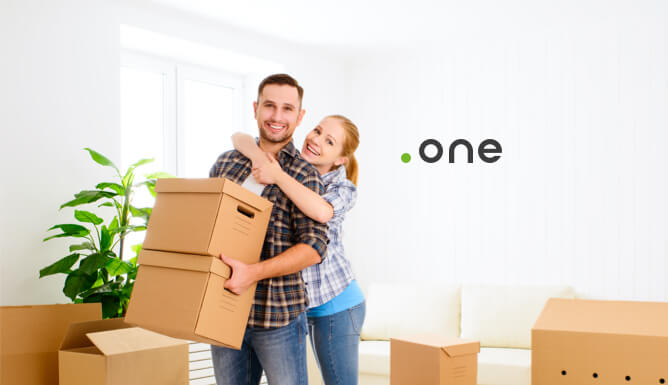 Easily transfer your domain to one.com like this:
Prepare your domain for transfer. Back up all the content you wish to keep and initiate the domain transfer with your current provider. In most cases, this means you need to request an authorisation code (Auth-ID) from your registrar, but rules vary by top-level domain. Ensure you can access the email address associated with the domain, as you will be receiving emails to authorise the transfer.
Place an order on the one.com website. Search for your domain on our website and select "transfer". You'll then be able to choose a suitable website plan depending on your current hosting requirements and future growth ambitions.
Approve the Domain Registration Agreement. If you're transferring a generic domain like .com, we'll send you an email asking you to approve the Domain Registration Agreement outlining our obligations to each other.
Enter the AUTH-ID, also known as EPP code you've received from your current registrar, in the one.com control panel. We'll send in a transfer request to your current provider. It may take a few days to process the request before the transfer is complete.
Transferring websites and emails is affordable at one.com
Depending on the host, migrating your website and email can be a cumbersome and painful project. Not with one.com, a domain transfer has never been more effortless. You'll get access to free tools to automate as much as possible and extra support if you need it.
You can easily import old emails into your new one.com mailbox within webmail, for starters. We support both hosted emails and free mailboxes like Gmail or Hotmail. There is no need to worry about fitting it all in; we don't limit mailbox sizes.
Next up, your website needs porting over. If you have a WordPress based website, you can use our custom 1-click WordPress migration tool. Complex or extra-large sites might need assistance, though, so please feel free to contact our support. We'll happily assist you in migrating your site.
After the site is migrated, the next step is to purchase and activate an SSL certificate. It's important to have your website traffic secured from unauthorised access at all times. At one.com, we'll automatically install a completely free wildcard SSL certificate for you as part of the hosting setup.
Three top tips when transferring a domain name
Watch for transfer blackout periods. Many TLDs have rules about restricted transfer periods after registration and before renewal dates, so time your transfer wisely. Before starting a domain transfer, check that its status is free and that no rules barring the transfer will come into force anytime soon.
Check if your new provider offers a money-back guarantee. If you're unhappy with your current domain provider, the last thing you want is to find out your new registrar is no better fit. In the case of one.com, we doubt you'll make use of it, but our 15-day money-back guarantee will give you that peace of mind.
Unlock savings with a premium website plan. Another reason to transfer your domains to one.com is to save on web hosting and service licenses. Our "Enthusiast" and higher plans can be shared by multiple domains, where each one has access to the same features, including premium security and marketing tools. They also share storage and performance. Great value for money!