WordPress VS website builder
Start building your dream website with a tool best suited to your needs
If you're looking to set up a website, there will be many factors to consider. One of the most important ones would be which tool you want to use to build your site. Building a website can be done in many ways. Most of the time, either WordPress or a website builder are up for consideration. Both are great tools for building a website, and each has its advantages. In this article we will explain the benefits of each, so you can decide which is best suited to your needs.
What is WordPress?
WordPress started as a blogging platform but has evolved into much more than that; it is now a complete website building tool. It's the most popular platform to build a website powering over 40% of all sites on the internet.
Although WordPress might feel overwhelming at the beginning, it offers many possibilities. We can promise, once you grasp all of its unique features and tools, you will love it.
At one.com, you can get started quickly by creating a WordPress website. WordPress is included in all of our hosting plans and can be installed with our 1-click installation feature. You will also benefit from unique themes and the one.com plugin.
What our customers say about us
"One.com offers online services for websites and for WordPress users. I have made only good experiences." – Friedrich
What is a website builder?
A website builder is a programme or tool that allows you to design and create websites without needing to edit any code. It usually involves a drag-and-drop function. This makes it easy to build a website without having any prior knowledge or needing assistance.
Our one.com in-house Website Builder makes creating a website a breeze. With its easy drag-and-drop interface, you can spend time focusing on the design, rather than learning about the system. You can choose from over 140 templates, which are all customisable to your brand vision.
What our customers say about us
"The Website Builder is excellent for my purposes and the whole offering of one.com is head and shoulders above its competitors." – Aidan
What's the difference between WordPress and a website builder?
There are several differences between both tools. To help you understand the differences we have compared and rated the three most important factors below.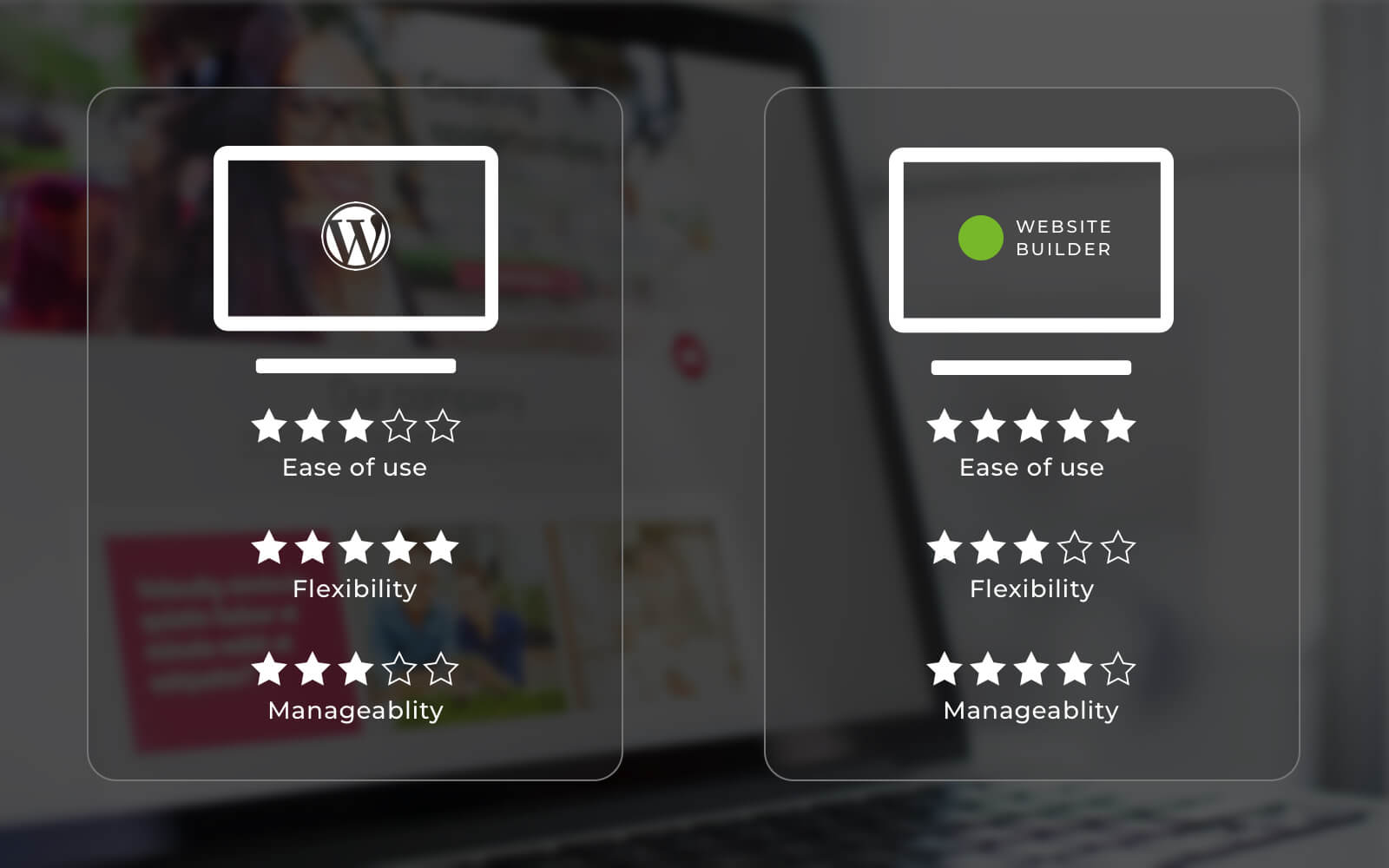 Ease of use
A website builder is considered more straightforward to use than WordPress. This is only because WordPress may overwhelm novice users. This doesn't necessarily mean that WordPress is difficult to use.
Additionally, WordPress has more technical language involved. Not to mention, it also has a steeper learning curve than a website builder, which makes it slightly more advanced. However, once you get the hang of it, WordPress is easy to use. So, if you're up for the challenge, and eager to learn how to produce a beautiful website; go for it!
If you do not want to spend much time learning about building your website, we recommend using a website builder. Building a website doesn't get easier than this. Using a simple drag-and-drop interface makes it very easy to create a website. At one.com, we've included images on our Website Builder that are available and free to use. You will save even more time because you don't need to take your own pictures!
Flexibility
With both WordPress and a website builder, you can create any website from a personal blog to a website for your business. However, with WordPress, you will have much more flexibility and possibilities.
First of all, WordPress offers a massive variety of plugins (add-ons). These are plugins that can add some form of functionality to your website. Not to mention, many add-ons are entirely free to install. However, since add-ons are external additions to your website, installing the wrong ones might harm your website. You should therefore always check reviews, the number of installations and the latest update date before installing it.
Although you can choose out of over 140 templates in the one.com Website Builder, WordPress offers thousands of free themes. WordPress is also guaranteed to provide users on your website with a mobile-friendly experience, whereas some website builders might lack in that area. WordPress will automatically scale your content depending on which device is used to visit your website.
Luckily, at one.com, we ensure each template is responsive from the get-go. Our Website Builder also includes a mobile view editor, so you can ensure your website looks great on all devices. Our templates are fully customisable, and once you've picked a template, you can change anything you like on it.
So, although you will have many more options and much more flexibility with WordPress, it's also more difficult and time-consuming if you want to make custom changes.
Manageability
WordPress contains a lot of 'fiddling'. You will need to have some time on your hands if you want your website to look as beautiful as it should. Publishing your content and pages with WordPress and a website builder is equally as easy. However, if you want to publish a lot of content, and develop your website over time, WordPress is the better option. On the other hand, if you simply want to get your website on the internet, and maintain a simple structure, a Website Builder is the tool for you.
In short, a website builder will get your website up and running, cheaply and quickly. WordPress will allow for a wider variety of options, a larger website and publishing a lot of content, but it will take more time before your website is ready to go live.
Should I use WordPress or a website builder?
So, which should you use? Ask yourself the following questions before deciding on which tool to use.
1. How much time do you have to build your website?
If you're new to WordPress, there will be a learning curve when trying to understand how to use it and how to set your website up. If you need a website quickly, the website builder is your best option. You can start from zero and publish, in no time.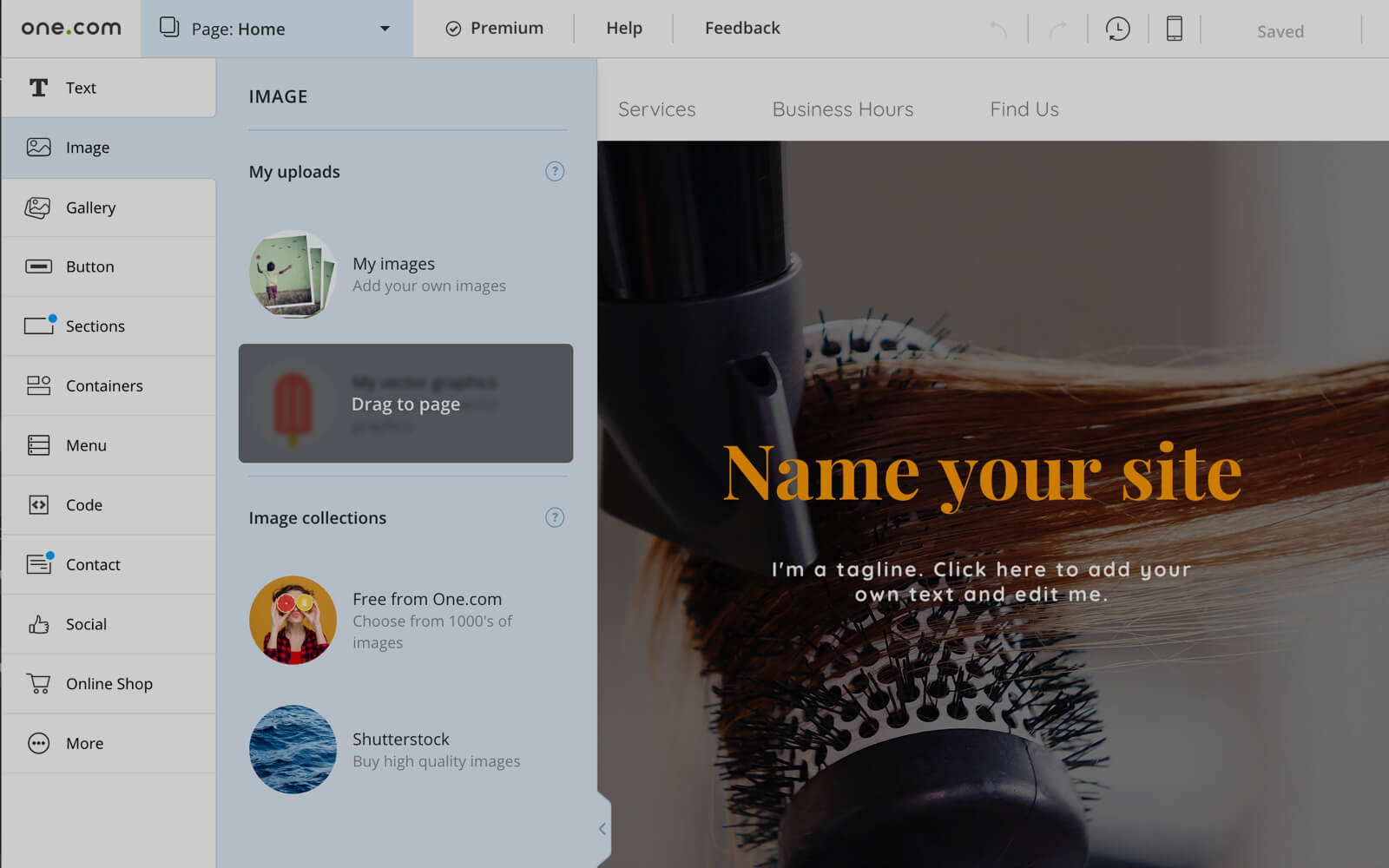 2. What is your technological level of knowledge?
For someone who may not be 'tech-savvy', WordPress may be overwhelming, as there is a lot you will need to learn. With a website builder, even the least technically savvy person can build a website, in no time.
3. What are you looking for in a tool?
If you're looking to build a website quickly and don't want to spend too much time maintaining it, then we recommend the website builder. However, if you're looking for more possibilities and don't mind taking some time to learn the tool, then WordPress is your best choice.
4. How large do you intend to scale your website?
WordPress is the better option should you want to have a larger website, although there is a steep learning curve, once you understand the system, you will have no problem creating and publishing content.
If you are opting for a smaller, simpler website with limited amount of content and pages, A website builder is a great alternative.
In summary, if you want to build a website as quick as possible, and not having to worry too much about updating or maintaining your website choose website builder. If you want more options and features yet are okay with the steeper learning curve and spending more time managing your website, choose WordPress.
To get started, simply select one of our hosting plans. Both Website Builder and WordPress are included in our plans.
Follow us on social media