Create a personal portfolio website
Promote your work with a digital portfolio
An online portfolio is an opportunity to show your work on the internet. This is ideal for freelancers to show potential customers what they are capable of. But a portfolio website is also perfect for people who want to share their hobbies and projects with the rest of the world.
At one.com, we have developed various templates for different types of portfolios. And you can build a portfolio website on your own domain, to give your portfolio a professional look.
How to make an online portfolio?
Building your own portfolio website is done quickly with these four simple steps. There is no need to have any technical knowledge.
Select a hosting plan that suits your needs. Choose a domain name and complete your order.
Decide if you want to create your portfolio website with Website Builder or with WordPress.
Select a portfolio template, or search for a theme in WordPress yourself.
Fill your portfolio with projects, photos and information about yourself.
At one.com, you can create a portfolio website with Website Builder or with WordPress. Both options are included in all our plans, but the "Beginner" package does not include a 1-click WordPress installation. The choice for Website Builder or WordPress can be made in your one.com dashboard after your order has been completed.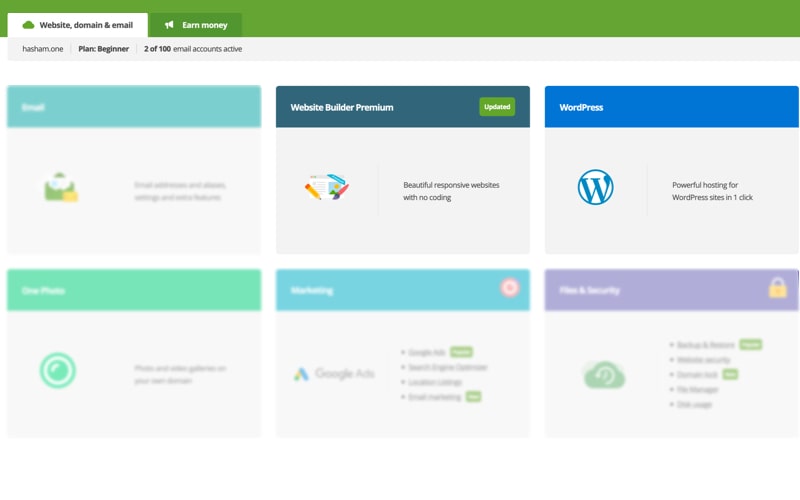 Create a portfolio website with Website Builder
If you want the easiest and fastest way to build an online portfolio, Website Builder is your best option. You can get started with pre-made templates for different types of portfolios. Such as a photography portfolio, a model portfolio, or a portfolio for freelancers. All you have to do is choose a suitable template and replace the content with your own content. For further customisation, you can also make changes to the structure and appearance of your portfolio website with Website Builder.
Create a portfolio website with WordPress
If you're looking to build a more extensive portfolio and want more options to improve your website, it's best to choose for WordPress. WordPress offers you more freedom and features, but it is also slightly more difficult for beginners. The main advantage of WordPress is that you have more themes to choose from and are able to use plugins.
If you haven't done enough projects to build a solid online portfolio, but still want to make a great online impression, consider creating a CV website.
Choosing a portfolio template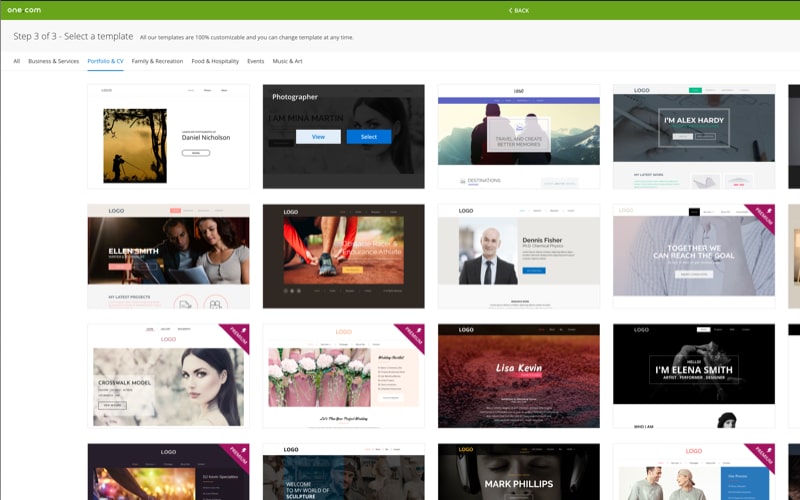 Choose a template that suits you and your portfolio. At one.com, we have designed various portfolio templates for specific hobbies and professions, such as photographers, DJs and artists. With these templates, the outline of your portfolio website has already been created. The only thing you have to do is add your content.
Try finding a suitable theme in the WordPress library yourself if none of our templates is a good fit. You can do this by searching for themes with a term as "portfolio". This will immediately find you hundreds of free portfolio themes.
4 tips for a convincing online portfolio
Show your best projects only. Even if you have done over a hundred of different projects, your visitors are not going to look at all of them. That's why it's better to show your most impressive projects only.
Create social media pages to share new projects with your followers. Link to these social media pages from your website and vice versa.
Create a page about yourself where you describe who you are and what your story is. This allows visitors to get to know the person behind the portfolio.
Make it easy for people to get in touch with you so that you won't miss an opportunity for a new project. For example, you can add a contact form or buttons that link to your email or social media.