20 years of one.com, a timeline
It's one.com's birthday! What began as a small Danish startup in 2002 has since grown into an international company, hosting customers in more than 100 countries. It's time to look back on the past 20 years together. What have been the key milestones of one.com so far? Let's find out.
2002 – The founding of b-one.net
The story began in 2002. Back when only one in ten people in the world had access to the internet. There are only a handful of people who believed in the future of the internet. Jacob Jensen and Thomas Frederiksen are among those who believed. So in 2002, they founded b-one.net, a small web hosting startup in Denmark.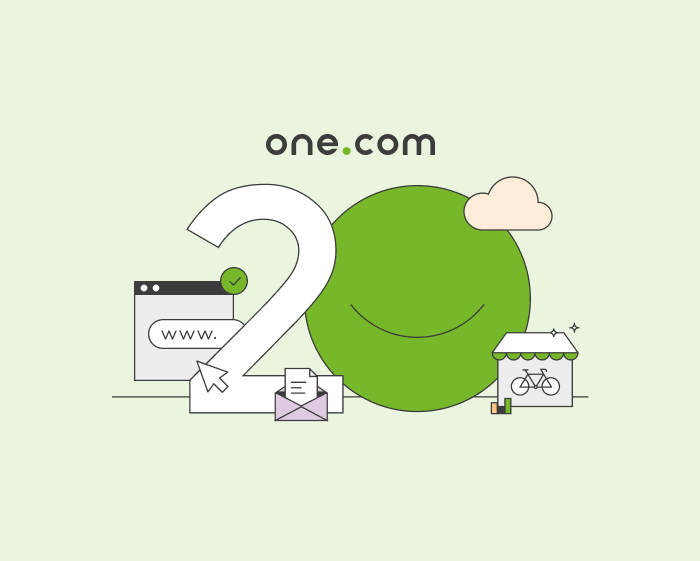 9 July 2002 – The first orders
On 9 July 2002, the first customers placed their order. The product? An easy all-in-one web hosting package. We still host the domain name of the second-ever order after 20 years.
May 2005 – We went international
In May 2005, the headquarters moved to Dubai. With the move, the English-speaking support team was born. Today, we have offices in 8 different countries and local support in several of them.
September 2005 – The introduction of 24/7 chat support
On 17 September 2005, we introduced the English chat support. Since then, you can reach us 24 hours a day, 7 days a week. Today, we are available via chat, email as well as phone in many markets.
2006 – The name changed to one.com
In 2006, we purchased the domain name one.com and rebranded. The same logo stayed with us until 2019, when it changed again slightly.
2007 – We went multilingual
To become more available to our international customers, we gradually opened chat support for customers in Denmark, Sweden, France, the Netherlands, Belgium and Germany. Today, we also support Norwegian and Spanish natively.
2008 – 500,000 active web hosting subscriptions
After 6 years, we reached half a million active web hosting subscriptions, a great result showing the company's successful growth.
December 2010 – We hosted Google.dk
The Danish URL for Google, Google.dk, was hosted on our servers for a few hours in December 2010. It was a LOT of traffic to handle, but we managed. Phew!
October 2011 – We opened 2 new offices
We moved to a new office in Copenhagen in 2011, and you can still find us there. In the same year, we opened a new office in India and expanded our office footprint further in 2017. We now have over 200 employees connected to these offices.
2011 – 1,000,000 active web hosting subscriptions
In 2011, we continued our rapid growth and reached 1 million active web hosting subscriptions.
2012 – The introduction of 24/7 monitoring
We introduced 24/7 uptime and system monitoring, meaning that our infrastructure was, and still is, monitored 24 hours a day, 7 days a week. Because of this, your email and hosting stay flexible and stable at all times.
April 2012 – The launch of Website Builder
In April 2012, we launched our top product, Website Builder, making it easier than ever before to build your own website. All website plans include a free version of the tool, and it is very popular with over a quarter of a million sites actively using it today.
2014 – The top-level domain .one
One of our sister companies started to operate the .one top-level domain. Today, it's in the top 30 most popular TLDs worldwide.
2017 – The introduction of 1-click WordPress
We made installing the world's most popular content management system, WordPress, more straightforward for our customers. It is now possible to install WordPress and start building your website right away. 4 years later, we launched a new managed WordPress product, which takes WordPress to the next level.
2018 – 1,500,000 active web hosting subscriptions
The next big milestone: we reached 1.5 million active web hosting subscriptions for 1 million customers. Despite our size, the environmental impact of our data centres is minimal as they work on renewable energy — something we are very proud of!
2019 – The headquarters moved
In 2019, we moved our headquarters to Malmö, Sweden, but we remain international. Our customers come from more than 100 countries. We accept more than ten foreign currencies, from Czech crowns to Mexican pesos.
2019 – The introduction of a new corporate identity
After 17 years, it was time to give one.com a new look. We introduced a new logo and graphic style, including our recognizable green colour dot.
2020 – We are group.ONE
We became part of group.ONE in 2020. The ten hosting and software brands in the group work closely together. Together we are one!
2021 – The Companion App went live
Moving with the times, one.com launched its very own mobile app to help customers get the most out of their subscription.
January 2022 – Top 100 best employers in India
We became recognized as one of India's top 100 best companies to work for. The satisfaction and well-being of our employees are always on top of our list. Today as group.ONE, we help more than 1,500,000 customers worldwide to make their online projects a success. With a broad portfolio, including everything from domain names, web hosting, and email to working online with Office 365, we are proud to help you.