How to stop spam emails?
Stop spam emails from entering your inbox today!
Do you keep getting spam emails with embarrassing headlines relating to various adult services, or perhaps an inheritance from a Nigerian prince?
We have all been victims of receiving various spam emails, whether it is regarding pharmaceuticals or someone trying to sell you on taking a loan. Unfortunately, it is almost impossible to stop junk emails permanently. However, we will provide you with 6 tips that will definitely ease the problem and help stop spam emails from bombarding your inbox.
What are spam emails?
Spam emails have several names. You might have heard phishing emails, junk emails and even unwanted emails. They are all just different synonyms to the very much unwanted spam emails we receive. Spam emails typically refer to schemes in which the sender wants personal and financial information from you; this is the meaning of phishing emails or spam emails. It could be someone asking you to donate, take a loan, or perhaps an email announcing you the winner of a brand-new car. The purpose of these emails is to make you click on it in order to open the gate for possible virus attacks. These viruses attack your computer or mobile device to extract your personal information that could be used against you later on.
How to recognise spam emails?
Sometimes it is easy to recognise unwanted emails and other times it can be difficult. We have shared four ways you can easily spot unwanted emails:
Sender
One way to identify spam emails is by looking at who the sender of the email is. If it's something along the lines of lottery-winner@tX93053533aka09q2.com then it's with certainty a junk email.
Subject
Read the subject of the email and see if you think something is phishy?
Recipient
Check who the recipient is because many times the spammers send the same email to several recipients.
Content
Finally, and perhaps the easiest way to recognise unwanted emails is by reading the content of the email. Ask yourself once you've read the content if you really want to fill out a loan without checking the legitimacy of the company or ask yourself if you really did sign up your name in order to win a car? How likely is it that you have won the lottery or is it just another unwanted email? If it sounds too good to be true, then it probably is.
Also, check the content's spelling and grammar because there is usually a sign of mischief right in front of you in the text.
Here is an example of a spam email: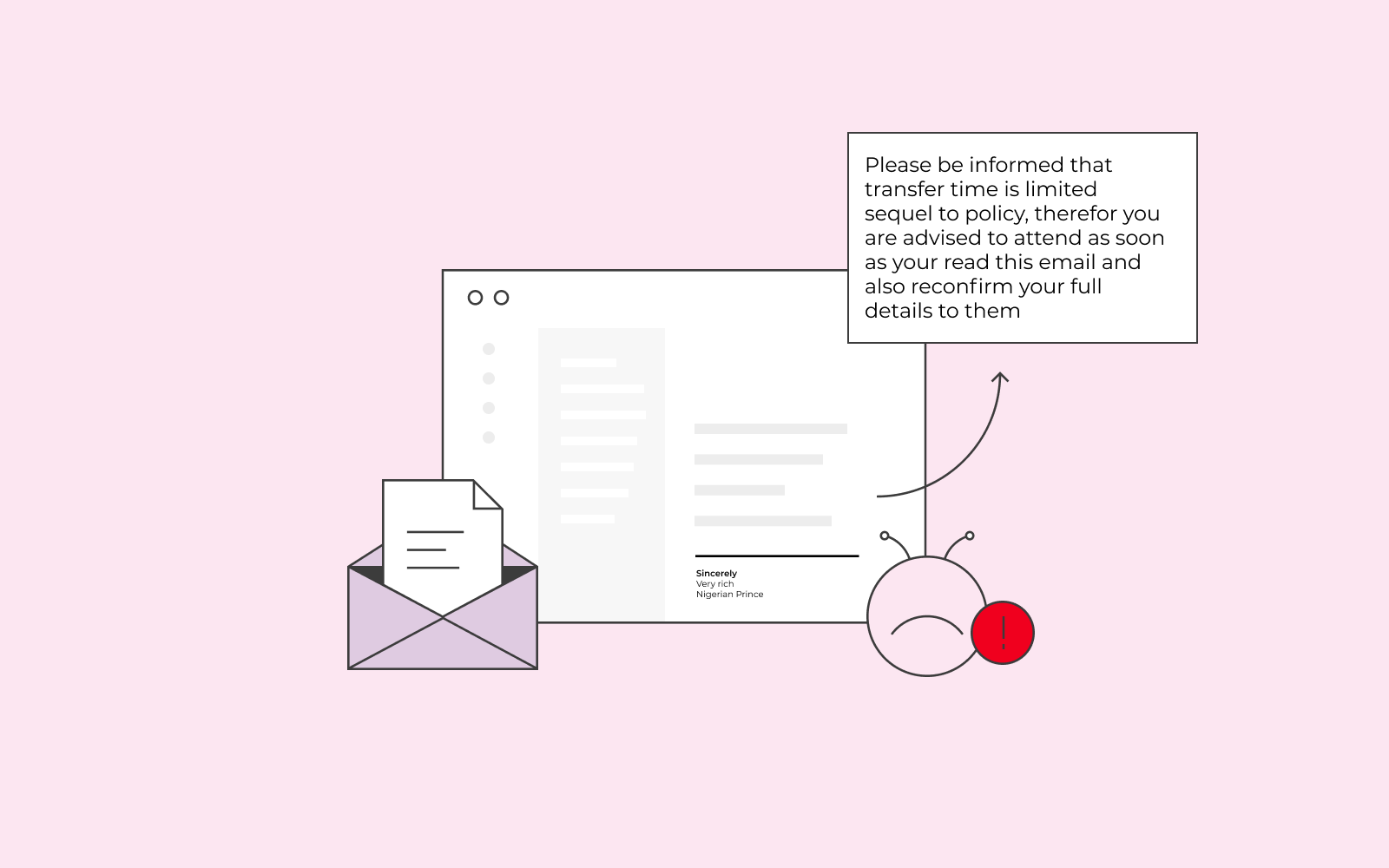 6 tips to block spam emails from your life.
1. Don't sign up to a mail list that you are not absolutely sure about.
Make sure you know what you are signing up for before submitting your email as most often spammers will collect your email and start bombarding you with junk emails. You can also use a disposable email when you want to sign up to newsletters etc. to be extra cautious.
2. Do not in any shape or form open a spam email.
Once the unfortunate unwanted email is in your inbox, make sure to delete it immediately. Do not click on the links in the email; it is usually these clicks that do the most damage.
3. Do not unsubscribe from spam emails.
This might be a strange one but nevertheless crucial. Usually, when you click on unsubscribe, you indicate to the spammers that your email account is active, leading to even more spam emails.
4. Don't share your email address.
Only share your email with people you know. Don't write your email address on your social media profiles. The general rule is, if spammers don't have a way to collect your email address, then you will most likely not receive junk emails.
5. Use a contact form
If you want people to contact you regarding your services, the best option would be to use a contact form on your website. That way, you can get contacted without email crawlers using your email address to send you spam emails.
6. Report spam email
The more you click on report spam whenever you receive a spam email, the more your inbox will learn to recognise spam emails when they enter your inbox. This way, you won't even have to see the spam emails.
How does one.com help me block spam emails?
We have various features at one.com that can help you block spam emails. We have written down four great ways to stop and block spam emails using the features that one.com offers:
1. Activate Domain privacy
When we register a domain name on behalf of our customers, we are obliged to add the registrant details to the WHOIS database (a public directory where you can look up "who is" responsible for a domain or IP address) that is also accessible to spammers who can then mime the directory for data, even though it is forbidden. This is a requirement from ICANN, the organisation that manages the internet.
Spammers use this data to send targeted offers via email. For example, junk emails offering services for SEO optimisation or warning you about expiration.
To prevent your contact details from being listed in the future, we recommend activating Domain Privacy. It's most effective when you add this feature while ordering because then your details will never be made public, but you can also activate it at a later time of your choosing from the control panel.
2. Use a disposable email on the internet
It's a good idea to use a disposable email address, and not your primary email when you want to sign up, for example, to a newsletter.
You can create an email alias that forwards all emails to your primary account. You then create a filter that automatically moves all emails addressed to your alias on your primary account to a specific folder, for example, Newsletters.
If you start receiving too much spam, you can just delete the alias. At one.com, you can create as many email accounts and aliases as you like, so you will never run out.
3. Enable antivirus
You can enable antivirus filtering for your email address from the one.com control panel. Our filters will then move suspicious emails to the spam folder.
Tip: Make sure to regularly check your spam folder for any legitimate emails mistakenly marked as spam.
4. Block spam emails
If spam emails have infiltrated your inbox, instead of just deleting it, you can block senders or create filters to make sure it doesn't end up in your inbox again. If you block a sender, all emails sent from this address will go directly to your spam folder.
You can also block emails from a whole domain, and not only a specific address. You do this by creating a filter, where you move emails from a domain to your spam folder.
Remember that our support is available around the clock and can help you with any questions or concerns you might have.
Help, I've replied to a spam email!
When you reply to a junk email, you let the spammers know that your email account is active. It will most likely be more difficult to block spam emails going forward as they will continue to prod you for more personal information. If you have sent a generic response, you can probably solve the situation by deleting your email account and starting fresh. However, if you have given personal information, then you need to immediately change your passwords and everything else surrounding the information you provided, for example, notifying your bank of any possible unauthorised activity or breach.