5 must have plugins for WordPress professionals
We've listed five plugins that will help you deliver better WordPress sites, faster and with less effort.
Whether you're a full time WordPress developer or just getting started with a few small-scale projects, we've curated our favourite plugins that will automate and simplify your workflow, free up your time and help you deliver stunning, high performing websites that your clients will love.
Leverage your skills and new toolkit by choosing the right host. Try hosting your WordPress site on our dedicated, fully managed, WordPress optimised infrastructure. Enjoy more automation and more time to do what do you do best. We've included automated, visually tested updates with rollback and reporting straight to your inbox, daily vulnerability scans, daily backups and priority support via live chat into all managed hosting plans.
This powerful monitoring plugin was developed to increase productivity for WordPress agencies and freelancers. WP Umbrella provides a bird's eye view of all your WordPress sites in one easy to use dashboard.
Whether you host all your WordPress sites with the same hosting company or use different hosting providers, WP Umbrella will give you a detailed view of each site's uptime and performance and alert you of any PHP errors. It will save you time by allowing you to perform bulk actions on some or all your sites at once. When you want to report to your client, WP Umbrella has a white label reporting feature which schedules and generates customisable client reports automatically.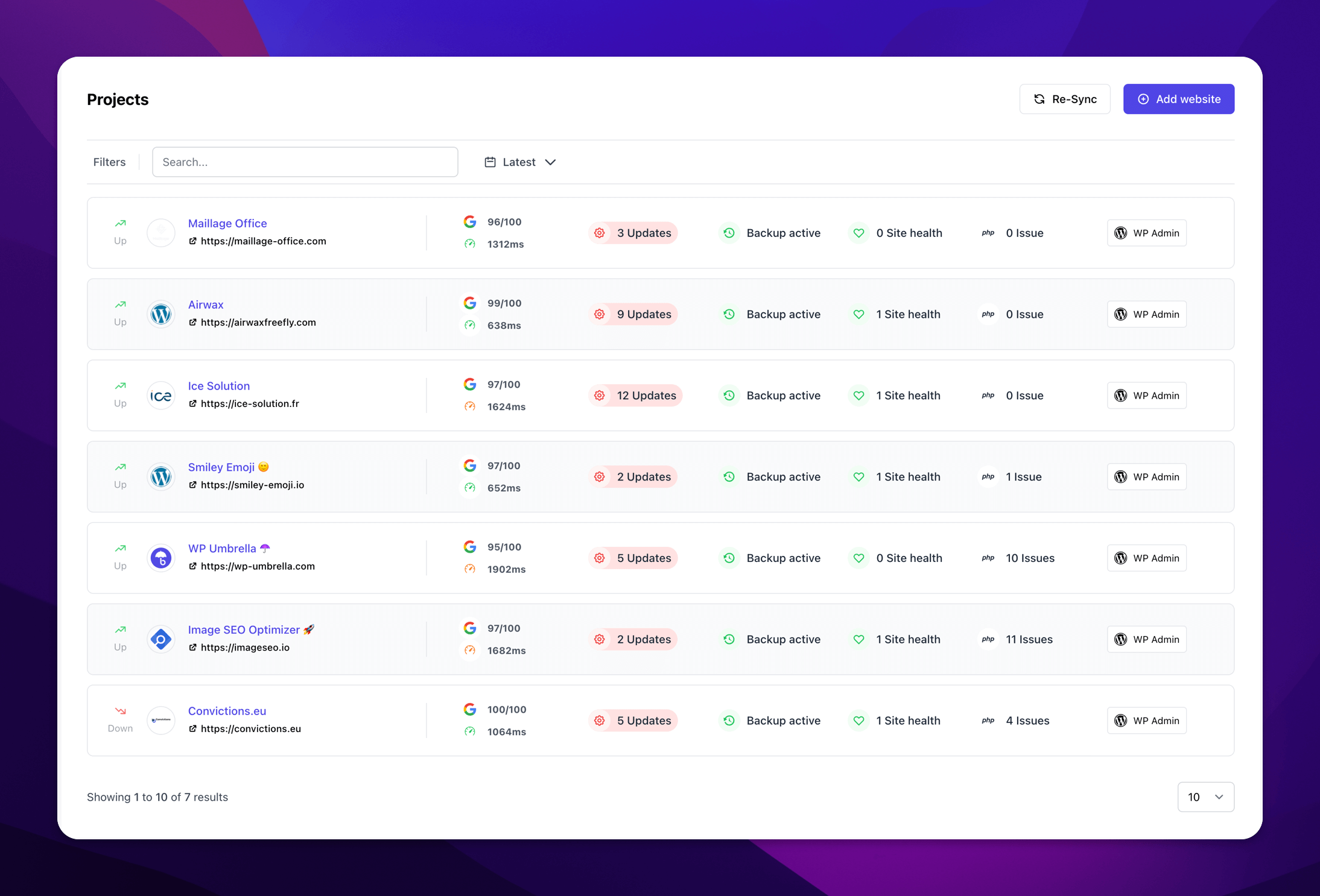 We like this SEO plugin as it offers more functionality than most counterparts in both free and premium versions and has a strong PageSpeed focus. It's lightweight and built in modules that are easily toggled on and off, giving you more control over its resource use. RankMath has a series of useful agency features like role management for different user types, white label reporting and sitewide analysis with straightforward improvement suggestions, making it a good choice for professionals managing multiple and/or large sites on behalf of clients.
This globally renowned WordPress community favourite is used on more than 2 million web sites and is a true must have if you want to save time building and managing high performing websites. Just by activating WP Rocket, 80 % of all web performance best practices are applied without writing a single line of code. Often referred to as the world's best caching plugin, WP Rocket goes beyond its reputation by addressing your website's entire user experience, helping you to improve all core web vitals. All one.com customers get 20 % discount on WP Rocket when purchased through your control panel at one.com.
This is a useful free plugin that allows you to create and manage custom posts and taxonomies within your WordPress dashboard. For example, when building a site showcasing real estate, you can create custom post types for properties for rent and for sale as well as custom taxonomies like property type and location. This is particularly useful if you're building the website to be updated by a less technical user as CPT UI lets you manage naming conventions in a way that facilitates adding the right content in the right place for your non technical co-editors.
When you build websites, you manage a lot of images. This image optimising automation plugin will significantly reduce the time and effort you spend on optimising your images and contribute to your site's speed and performance. We love it so much that we've pre-installed it with all our WordPress hosting plans. Just activate and enjoy resource savings without compromising the quality of your images.
Summary
To sum it up, these plugins will free up your time and help you build faster, better search engine ranking, websites using fewer resources. To get the most of what you build, host with a reliable host offering to manage most of the maintenance tasks for you.