What is a website builder, and how does it work?
Discover everything you need to know about website builders
In the old days building a website required a lot of coding and a lot of work. Now there are much more efficient solutions. For example, using a website builder to have your website up and running within minutes. Whether you're a freelancer, blogger or own a small business, a website builder makes it so you can create your website from the comfort of your home without needing to hire external help.
In this article, we will discuss what a website builder is and how it works. That way, you will understand how to get your website live and ready, in no time.

Brief Summary
Glossary
A website builder is a tool that helps you create your own website without having to code. It provides starter templates and drag-and-drop features to make it as easy as possible to build a website.
What is a website builder?
Before you can understand how it works, you'll need to understand what a website builder actually is. A website builder is a programme or tool that allows you to design and create websites without having to edit any code. You can do everything you need to by yourself, without needing a designer or developer. With the specially developed drag-and-drop website builder software, you can simply choose from a vast range of templates and customise them in line with your brand vision!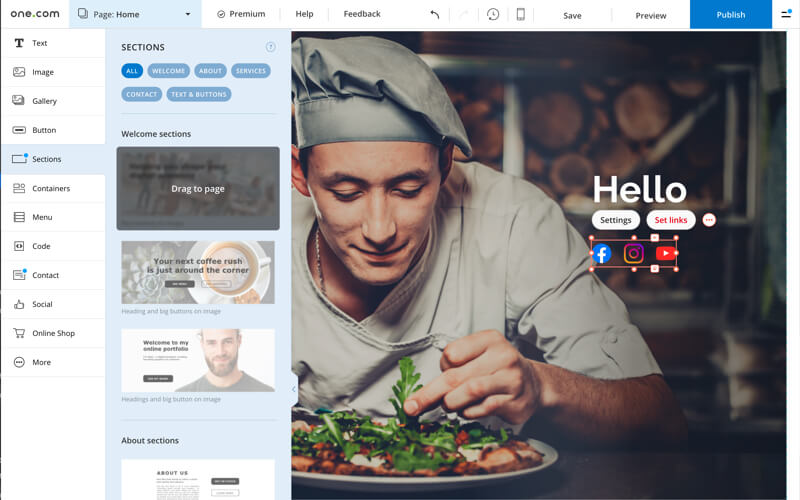 How does an online website builder work?
Both online and offline website builders exist. Offline website builders need to be installed first before you can start using them. Online website builders are used in a web application, so there's no need to install any software.
Online website builders are developed to be easy to use, for both beginners and more experienced designers.
The way a website builder actually works is simple. You start by choosing a template, which defines the look and feel of your website. Next, you simply use a drag-and-drop editor to build your website by editing the template, adding content and creating new pages. Drag-and-drop means literally dragging and dropping components and content into your workspace. You can add headings, texts, images, videos, and many other components. What you see is exactly how your website will appear when it goes live. Our Website Builder gives you a selection of over 140 fully customisable templates. You can easily customise the menu, divide content into columns and change pretty much anything you like!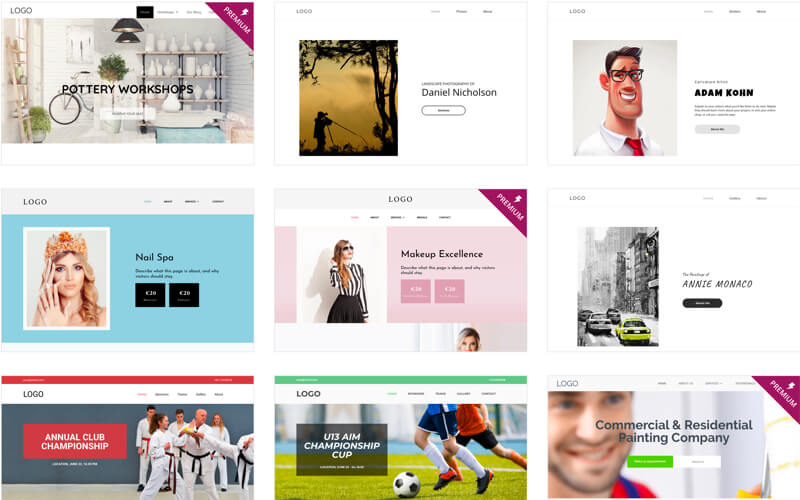 Why should I use a website builder?
Website builders make it easy for you to build and maintain your website. If you want your website to be a success, regular maintenance, is a must. It is important that all your content is up to date and engaging. As a website builder's drag-and-drop editor is straightforward and easy to use, making changes and updating your website regularly is a piece of a cake.
If you need another reason for why you should use a website builder, we can give you 6.
It's user-friendly.
It's cost-effective.
Modifying the website is easy.
No coding knowledge is needed.
It's easy to update content.
It requires little time and effort.
To summarise, if you want to create a website, a website builder is often a great option because of its ease of use and ability to launch a website quickly.
What can I do with a website builder?
A website builder is a great way to get started on enhancing your online presence. You can do anything from creating a blog to setting up an online store. Everything is left to your imagination. They are particularly ideal for small businesses, freelancers and personal websites.
Some suggestions on which types of businesses or freelancers which would benefit from the website builder are:
Artists
Bloggers
Photographers
Musicians
Writers
Florists
Other small businesses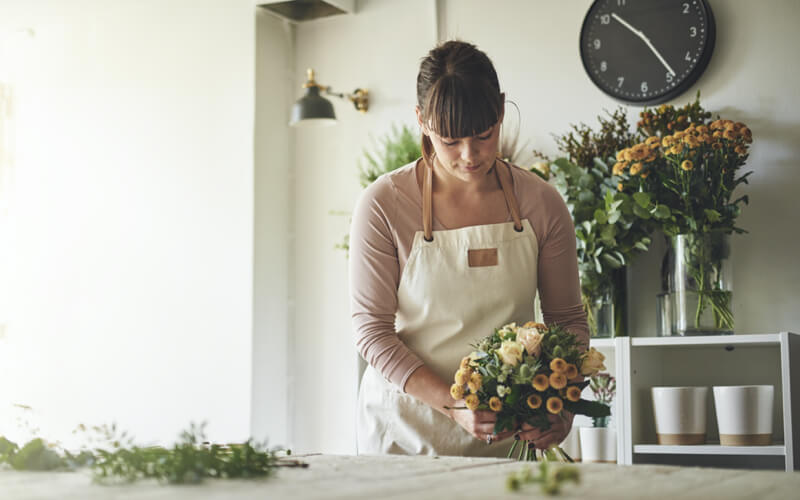 How do I get started with a website builder?
A website builder is a great tool to build your website, and at one.com, we have built our very own Website Builder. It's easy to get started. Before you can get starting building your website you will need to choose a hosting plan and register a domain name.
After completing your order, you can start using the Website Builder immediately. If you want to try it out first, we also offer a free 14-day trial.
When using the Website Builder, you will need to complete 6 simple steps before you can hit publish.
Log in to the Website Builder.
Log in to your one.com control panel and select Website Builder.
Choose and edit your template.
The first thing you will need to do is choose your template and customise it to your liking.
Add pages and edit components, such as text and images.
Once you are happy with the design of your website, you should create pages and fill them with content. You can easily drag components like text boxes, images and buttons to position them where you want them to be.
Remember to save your work.
Save, save, save! That way if something happens, you will not lose all your hard work.
Preview.
You can preview your website before it goes live, using the 'preview' button.
Publish.
Once you're satisfied with how the preview looks, and you've gone over our one.com checklist before publishing a website, you can go ahead and publish your site.
That's it! Now you understand what a Website Builder is and how it works. You're half-way there. Your next steps are to get started.