Do what you love and you'll never work a day in your life. You've probably heard it or seen it on a meme somewhere before. Although not entirely true, being self employed doing something you love and are good at is a great New Years resolution. We're not saying you won't have to work hard, we're saying it's going to be worthwhile and with some strategic planning, you can reduce your risk and workload, spending more time doing what you care the most about. In this article, we'll explain how to go about taking your dream online.
Starting your business
Do you have that one thing you really love doing? Why not start off the new year by turning it into a business? If you ask entrepreneurs in the UK, 92 % respond that they're happy that they made the decision to start their own companies.
And you wouldn't exactly be alone, 99% of all European businesses are micro- , small and medium sized companies. Ideas and dreams, just like yours power our economy, create jobs and add meaning to people's lives.
And if there's an ideal time to become a data point in these hopeful statistics, springtime is when you should be live, according to a UK survey measuring the best time to go live based on business outcomes.
As spring is just around the corner, now is a great time to file that business license application and work on building your online presence while it's processing. After all, you have the hardest part done already – the idea!
World domination doesn't have to be that dramatic – with the right tools, you can start small at a low cost, lowering your overall business risk. Most small business owners operate their new ventures while maintaining another primary source of income in the first years. We agree that it is a clever way to become self-employed gradually, with fallback throughout the most delicate phase.
You need to be online
Even in the earliest stages of your business, you need to be visible online. 9/10 customers search online for the goods and services they're interested in. Being present where your target audience makes their purchase decisions will increase your chances of success.
To establish a strong online presence – you need 3 things. A domain, a hosting plan and a website building tool.
You need your own website
Although social media offers a lot of "free" exposure, keep in mind that you're best off owning at least one of your communication channels. This way, you can mitigate reach restrictions imposed by social platforms.
Social media platforms earn their revenue from paid ads, meaning that they need 2 things from their users
They want you to create content for others to enjoy, amplifying their audience numbers
They want you to pay for advertising with them.
For these reasons, they tend to nudge the users towards desired behaviours by temporarily increasing their exposure in the beginning to create content posting habits and then gradually restrict visibility to prompt you to create more and pay to be seen.
Competition amongst social channels is of course, also a factor. For example, Twitter has recently announced the intent to restrict their users' promotion of their accounts on other social platforms and bio link tools like link.tree. So, if you post a tweet to promote something you wrote on Facebook, you might get your account's visibility restricted or even get your account suspended altogether.
Another thing to consider is downtime – every time a social media platform goes down, even for a short time you will suffer revenue loss, if the platform in question is your main sales channel. Facebook lost a whopping $ 65 million in ad revenue during a few hours of downtime, imagine how many businesses must've lost out on sales that day. The best way to mitigate this risk is to have an online presence you can control, like your own website.
One more good reason to put in the effort of building a website is trust. A professional looking website with your company's credentials, a map, contact details and a good-looking contact form will make your business look professional and credible. And of course, an email response from your custom domain looks a lot better than a message from a third-party platform.
It starts with a domain
Take a minute to ponder which domain would work best for you: a classic .com, something local like .se, .dk or .nl or something that hints at the nature of the business in a straightforward but innovative way like .shop, .kids or .link? Or why not buy a bundle to protect your name from being used by others and/or point multiple domains to your website?
Now, pick a tool to build your website with
Once you've decided on which domain to get, think of which CMS you want to build your site with. CMS stands for content management system and is the tool you build your site with.
There are a multitude of tools out there, but the by far most popular one in the world is called WordPress. WordPress is a free, open-source software where you build your site from a style sheet called a theme and can add virtually any functionality by installing plugins – like a smart phone with apps. It's free to download, use and modify and offers infinite customization. It does have a bit of a learning curve, but once you've mastered it, you'll understand why 4/10 websites run on WordPress – the White House, Bloomberg and Beyonce's website to name a few.
If you prefer a tool that is significantly simpler, try our intuitive and immensely popular Website Builder to create a beautiful and professional looking site in no time at all. Thanks to its drag and drop interface, you can focus on building a website that represents your business rather than learning a new software. With hundreds of modern style templates to choose from, you don't need any web design or coding skills to build a website no one can tell apart from one built by a web agency.
Still not sure?
Here's a video to help you choose.
Which did you choose? If you decided to go with WordPress, you can monetise your online presence beyond selling products. Try installing a plugin like MemberPress to put your content behind a paywall. This way you can build your own paid content platform to sell your knowledge and keep the profit as opposed to having to pay membership and transaction fees on subscription services for creators.
However you decide to run your WordPress site – make it fully managed with our Managed WordPress add on. It's free to try for a whole year! This way you get access to premium features that will make the maintenance of your business site run smoothly in the background. The most important one to keep your site healthy is automated updates with visual testing so your site stays up and as beautiful as ever. Your site will also be monitored for security vulnerabilities in the WordPress core, themes and plugins daily, and if one is discovered, the update manager will repair it in the background.
Another useful feature for businesses is our premium cookie banner that is guaranteed compliant with privacy laws worldwide, so you don't have to waste a minute of your time keeping up with GDPR.
Finally, you'll have access to priority support when you need help. The Managed WordPress addon is like having your own WordPress assistant, and it's free in your first year.
Did you opt for Website Builder? Try our excellent web shop that you can build in a matter of hours. It'll look so good that no one will tell the difference between your shop and one that took a team of developers weeks to build. If that sounds too good to be true, check out our video on how to create a modern, professional web shop in just 4 simple steps.
We are firm believers that you should have access to your business everywhere, so you can run your business when it suits you best. Our users agree. Most of them manage their business on the go, so we've put in a lot of effort to reduce dependencies on desktop computers. Our web shop can be managed from our handy companion app where you can see new orders, payment status and track the orders that you've shipped, straight from your mobile device.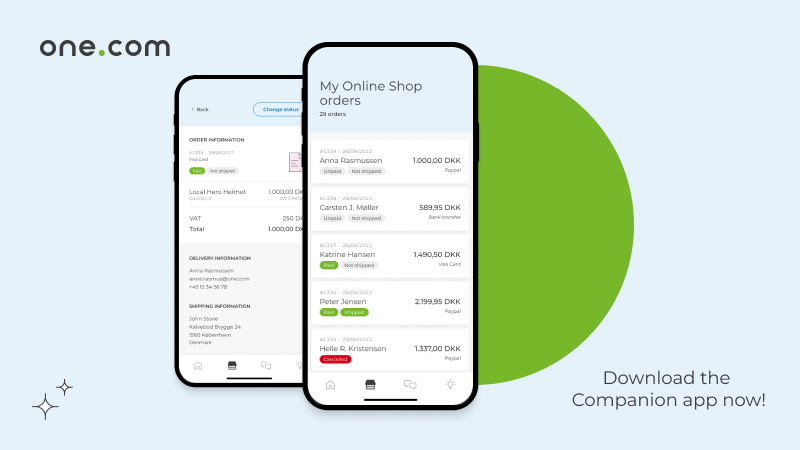 We love a good side hustle and are always here to enable yours. By the way, the web shop works with WordPress too.
Choose your hosting plan
We're almost there! Now, you need to choose a hosting plan that works for you.
Although our plans are largely CMS agnostic and offer ample storage and CPU performance for all types of users, there are a few questions to ask yourself before you pick one.
First of all, how many websites do you need? Maybe your new side hustle is all about creating websites for others, or maybe you prefer to have your web shop installed on a sub domain? In that case opt for a plan that supports multiple sites like Enthusiast (5 websites) or Guru (10 websites).
All our plans are WordPress friendly, meaning that your site will be hosted on infrastructure optimised for WordPress and benefit from our Performance cache and CDN. However, if you opt for the Beginner plan you will not have access to our 1-click installation and migration tools. You can still get that for free with a bunch of other benefits like priority support, automated updates, premium cookie banner and extra security benefits if you start your one-year free trial of Managed WordPress at the time of purchase. This is strongly recommended if you want to avoid installing WordPress via FTP.
The 1-click tools for WordPress are included in all other plans.
How much space and performance do you need? This is the main differentiator between the different plans. The more pages, rich content like images, videos and animations and functionality you have on your site, the more performance is required to have it run fast and smooth.
Finally, different plans have different add-ons bundled in, ranging from a free SEO scan to extra malware protection and mail quotas. Which one would make your online presence easier?
Why one.com
The final thing we want you to consider is the ecosystem your business will operate in.
A good idea is to keep it local by choosing a local hosting provider with data centres close to you and your customers. Not only will your website load faster, but hosting with a European company guarantees that your customer's data is handled within the EU. If you host with a company outside the EU, you are responsible for choosing a host compliant with European privacy laws, which requires additional vetting on your behalf.
When hosting with one.com, you also get support in your local language and locally relevant extensions for shipping, billing, payment and reporting.
We've helped more than 1,5 million customers to take their dreams online and built our products on 20 years of experience. You have the idea; we know how to take it online. Let's build something great in 2023.